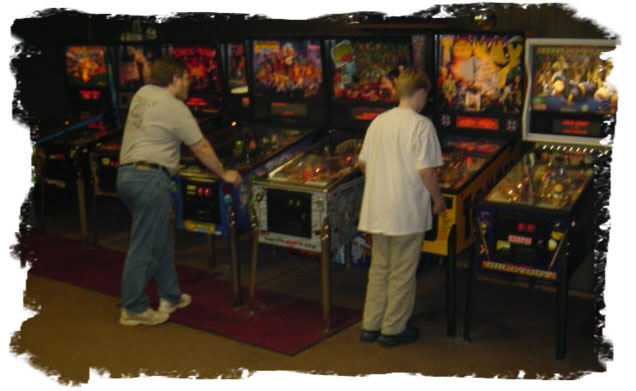 With twenty well-maintained pinball machines up for play (and many more in storage which are rotated in on a periodic basis) SS Billiards is the home of the region's largest collection of publicly playable pinball machines. We take pride in offering the widest selection of well maintained machines in the area. Whether you are looking to play recently introduced machines like Pirates of the Carribbean, Lord of the Rings, and NASCAR, or the classics of the past such as Addams Family and Medieval Madness, you will find what you are looking for at SS Billiards - the place for the serious pinball player!
Machines in our rotation include:
Batman DK
Wheel Of Fortune
Spiderman
Addams Family Gold
Attack From Mars
Pirates of the Caribbean
Indiana Jones
Indianapolis 500
Lord of the Rings
Medieval Madness
Monster Bash
NASCAR
No Fear
No Good Gophers
Pinball Magic
Pirates of the Carribbean
Revenge from Mars
Safecracker
Scared Stiff
Sharkey's Shootout
South Park
Star Wars: Episode I
Theatre of Magic
Tales From the Crypt
Tommy
Twilight Zone
White Water

Special Event Pins:

Big Bang Bar
Eight Ball Deluxe
Fathom

... with more on the way!